BONDAR POP-UP CELLAR DOOR - Sea and Vines Edition, 8-10 June 2019
Our pop-up cellar door is back open for three days this year over the June long weekend! On the Sunday we're having a bit of a party with DJ Driller hitting the decks - tickets are $85 which includes a Spiegelau wine glass, your first glass of wine, and a delicious three course lunch by Comida Catering Co. It's still a relaxed and casual affair though, not a sit-down lunch, you can just grab each of your three courses whenever you're ready for them. The menu is:
Entrée
Ocean trout rillete, soft herbs, crusty bread
~ AND ~
Pan con tomate y jamon – Spanish ham, tomato, garlic rubbed bread
Main
Arroz Caldoso – Spanish wet rice with fresh seafood or chicken/chorizo. Mixed greens, herbs, crouton.
Dessert
Churros, chocolate sauce, cinnamon sugar.
On the Saturday and the Monday you can pop-in at any time between 12-5 with Free Entry. Comida will be with us again, offering a smaller menu available to purchase (see below) and on Monday our good friend and insanely talented musician Joe Braithwaite will be on the guitar performing acoustic tunes to soothe our ears.
Menu
Fried Coorong Mullet Bocadillos – tomato, lettuce, garlic aioli ($15)
Tortilla espanole – Spanish omelette in sourdough, rocket, aioli, manchego ($15)
Regional platter ($25)
Kids fish and chips ($15)
Churros, chocolate sauce, cinnamon sugar ($15)
Groups of 8 or more people need to be booked in advance to selina@bondarwines.com.au. We hope we will see you there at some stage!
BONDAR [SEA AND VINES] POP UP CELLAR DOOR - JUNE 2018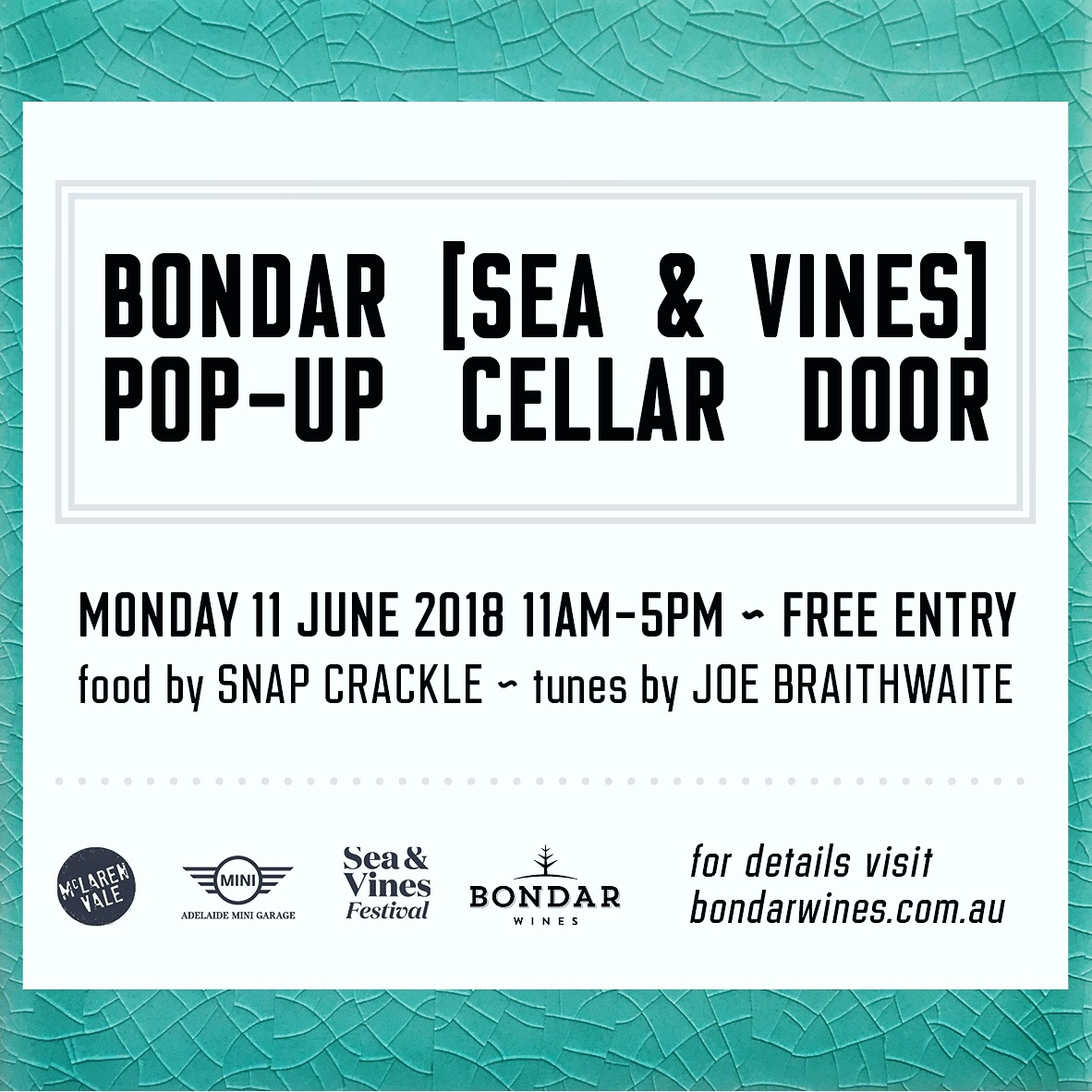 as part of the McLaren Vale Sea and Vines Festival this year, we'll be opening our shed doors on the Monday of the June long weekend.
Expect a couple of new wines (perhaps 2018 Rose, and a brand new and extremely limited Rayner Vineyard Shiraz amongst others), food by the always excellent Snap Crackle Catering, and acoustic tunes by the supremely talented Joe Braithwaite.
MONDAY 11 June 2018, 11AM-5PM

BONDAR WINES, CORNER TWENTYEIGHT ROAD & CHALK HILL ROAD, McLAREN VALE
MENU:
Fresh Smokey Bay Oysters - $15 (6) / $25 (12)
Fried Haloumi with watermelon puree, turkish bread, watermelon skin, mint and sumac - $10
Truffled mushroom arancini balls - $10
Salt and pepper squid - $15
Charcuterie plate: 3 local meats with accompaniments - $20
Cheese plate: 3 local cheeses with accompaniments - $15
Cheese and Charcuterie plate - $30
Bondar Pop-Up Cellar Door
[Summer Edition]
Come and visit us! We're creating a little pop-up cellar door in our vineyard shed for the summer. Opening over two weekends, from Thursday 28 December - Sunday 31 December, and Thursday 4 January 2018 -Sunday 7 January.
Bondar wines will be flowing by the glass and bottle and our mates at Snap Crackle catering will be putting together some delicious tapas and local platters.
On Friday 29 December Joe Braithwaite will be playing acoustic tunes, on Saturday 30 December Skin Contact DJ's will be spinning hits, and on Saturday 6 January DJ Driller will be hitting the decks.
Hope to see you - Sel and Dre X
BONDAR POP-UP CELLAR DOOR - MCLAREN VALE SEA & VINES - MONDAY 12 JUNE 2017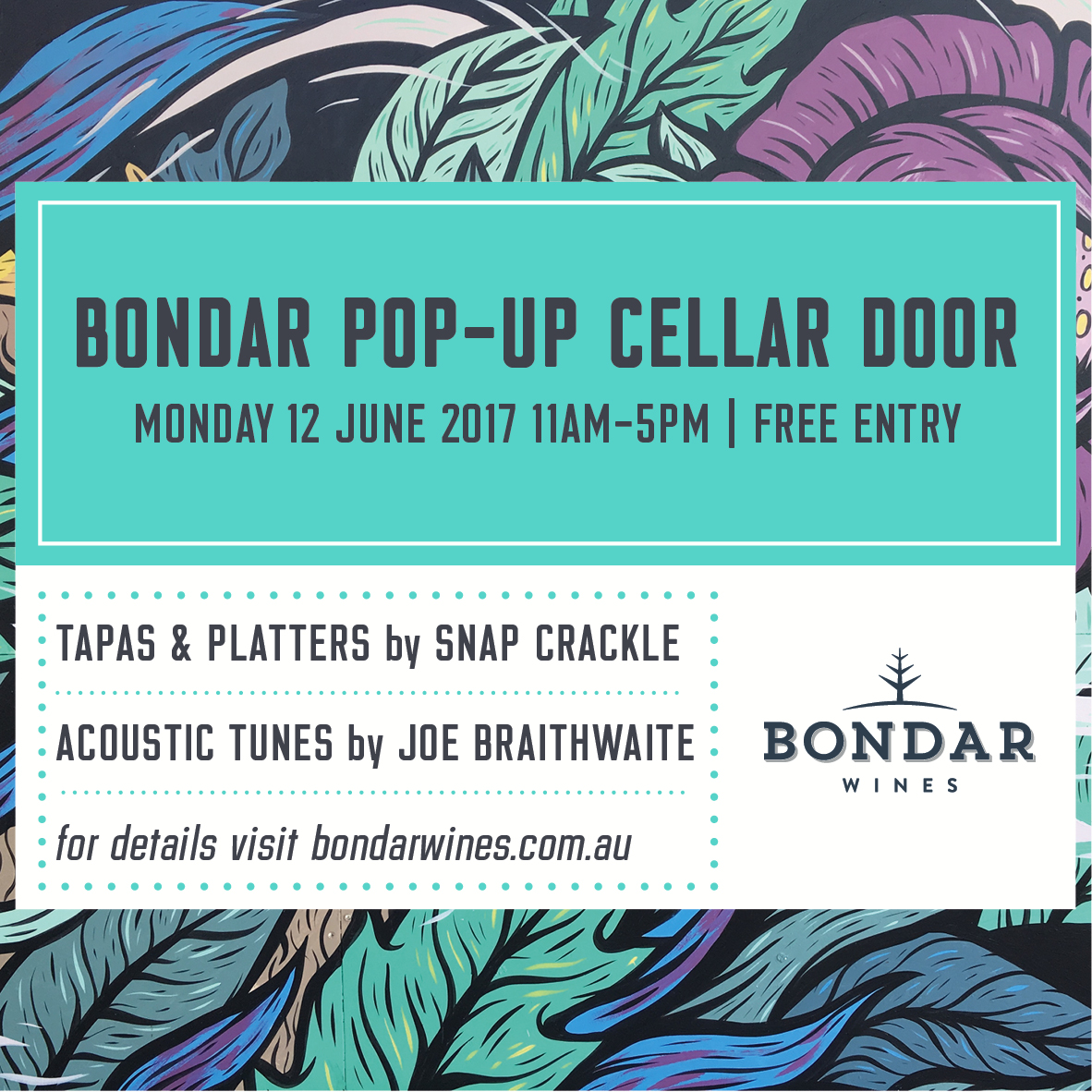 We're opening up our Shed doors for one day only during the McLaren Vale Sea and Vines Festival over the June long weekend. We'll have the last few cases of all of our wines (that we have squirrelled away especially) for you to enjoy by the glass or bottle with delicious tapas and platters by our amazing friends and caterers SNAP CRACKLE, while listening to the sweet tunes of JOE BRAITHWAITE.
Hope to see you there! Selina and Andre xx
WHEN: Monday 12 June 2017 11AM-5PM
WHERE: Bondar Wines, Corner Chalk Hill Road and Twentyeight Road, McLaren Vale
RSVP: to selina@bondarwines.com.au.
BONDAR SHED PARTY (2) - McLaren Vale Sea & Vines
TICKETS AVAILABLE NOW - Earlybird tickets close midnight on Friday 8 May 2016. Click HERE to book!
Bondar Pop-Up Cellar Door: Monday 28 & Tuesday 29 December 2015
SHED PARTY 2015, SUNDAY 7 JUNE, 11AM-5PM, 23 TWENTYEIGHT ROAD McLAREN VALE
Join us at Rayner Vineyard for our first ever Shed Party on Sunday 7 June 2015. A great day of music by with live acoustic tunes by Joe Braithwaite (ex-Lowrider) and beats by DJ Driller Jet Armstrong, awesome food by Snap Crackle (the new project of gun Bar 9 head chef, Rocky Oliveira), and wines by us.
Tickets are $38 pp which gets you entry, a Spiegelau wine glass to take home, your first glass of wine and entertainment. Bookings are essential. To book CLICK HERE.

Bus transport return to Adelaide is available for an extra $30 per person. Please note places are limited so get in early for these. There is a wait list, so if we have enough people join that list we will book another bus.

Spread the word and we hope to see you there! Cheers, Selina and Andre.